Commercial roof coatings improve the performance of your roof and increase its lifespan. The coatings are usually sprayed or rolled directly onto your existing roof surface. They are a great option to renew your current roofing system while also saving your business money and time.
Asheville's Best Roof Coating
When picking a roof coating for a commercial project, there are many options out there that may fit your needs. The top, most popular options are Silicone, polyurethane, Acrylic. The material formulations, uses, and application methods are all different. Facility managers should review the manufacturer's material datasheets. Then you can determine which product is suitable for your specific project. Not all coatings are acceptable or compatible on all roof surfaces.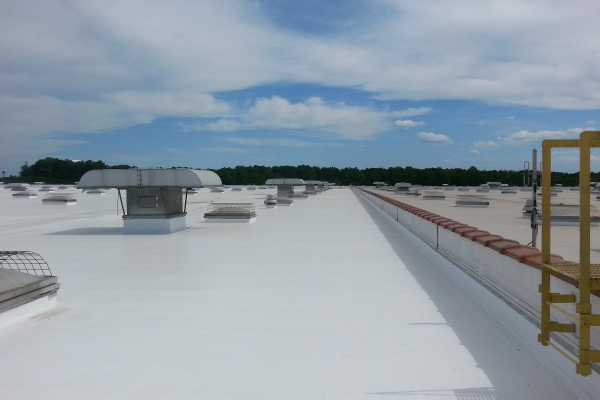 Silicone
This is a very elastic material. It allows for expansion and contraction with temperature changes. Know for its UV resistance and reflective properties, the white silicone can contribute to keeping your building cool. It is also available in a variety of colors to match the exterior of your structure. Silicone will not become hard or brittle and can withstand pooling water on a flat roof.
Application of Silicone goes on quickly. First, you should prep the roof, make sure it is clean, and complete any repairs. Most can be applied via sprayer, roller, or squeegee. Manufacturers will make a recommendation on what is best. Usually, silicone needs a single coat to get high-quality performance. Silicones adhere to themselves, so if you need to re-coat, it is an easy process. 

RECOMMENDED FOR: Silicone is recommended for low slope and flat commercial roof systems. It usually costs between $2 and $3.50 per square foot.
Polyurethane
Initially developed as coatings to be applied over sprayed-in-place- foam roofs. Now this option is a coating application used over many different roof membranes. These coatings provide the best coatings for foot traffic and impact resistance. They offer high-quality adhesion that is compatible with many roofing materials. Polyurethane is powerful and durable. Many polyurethane coatings include a base and topcoat. The bast coat is durable but does not offer a high UV resistance. The topcoat provides more UV resistants that stays clean longer and holds color longer without fading.
Applying polyurethane is easy and can save you time on your new roof. The foam coating application is sprayed onto the roof. It can be applied with nearly no interruption to the daily routine of your business. You can use it over asphalt shingles, wood, metal, or concrete. 

RECOMMENDED FOR: Polyurathane coatings are an excellent option for low-sloping and flat roofs. The coatings are resistant to pooling water. The poor UV resistants make it so that you must have a topcoat for added protection. You can expect to pay $1.50-$3.00 per square foot.
Acrylic
This coating provides excellent resistance to radiation, hail damage, and other severe weather. It is flexible and may withstand more than some other roof membrane surfaces. This coating has a particular weather window when you can install it. They cannot be applied in freezing temperatures or in times when precipitation can occur. Cure times on Acrylic are highly dependent on the weather. Acrylic coatings are very easy to work with.
They can be applied like paint, by roller, spray, brush, or squeegee. To clean up, use water with the same ease as rinsing after painting with typical latex house paint. 

RECOMMENDED FOR: Acrylic coatings are suitable for pitched roofs or other steep sloping roofs. The coating does not hold up well to pooling water. Application of acrylic coating on textured surfaces comes out smooth and clean. The coatings are economical and cost $.50 to $1.25 per square foot.
Roof coatings are an affordable option for replacing your entire roof, even on a large commercial property. Roof coatings range from $.50-$3.50, depending on the type you choose. It is much more affordable than $3.50-$5.00 per square foot for completely replacing a roof. 
Pisgah Roofing and Restoration offers a variety of commercial roofing coating options. Having your commercial roof restored with a roof coating is cost-effective and timely.  Contact us for a quote and comprehensive roofing system application information.
Types Of Roofs We Work On
Why Choose Pisgah Roofing & Restoration